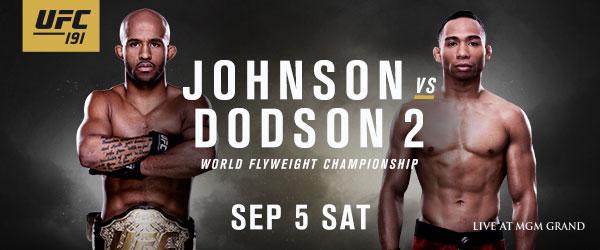 UFC 191: Johnson vs Dodson II is a couple weeks away now and we locked in our first bet for the event tonight. We primarily look for underdog opportunities, but there aren't many of those at UFC 191 and we expect almost all of the fights to be won by the betting favourite. In terms of our recent results, we enter UFC 191 off a huge profit at UFC Fight Night 74: Holloway vs Oliveira which followed up a big loss at UFC Fight Night 73: Teixeira vs St Preux. The net result of the two events was a slight loss and it meant we had a slight loss on the month of August (with Bellator 141 still to come). You can check out our third party tracked betting record which includes all bets since the start of 2015 at Cappertek. Our full betting track record which includes bets since 2013 is also hosted on our site. Overall, 2015 has been very kind to us with an ROI of around 14% meaning for every $100 bet you are expected to return $14. If you look at the betmma.tips leaderboard, that puts us right up near the top where the top guy is fairly inactive and likely doesn't have a large enough sample size.
The first leg of our parlay (and probably 90% of people's out there) will be Demetrious Johnson. Since losing a bantamweight title shot against Dominick Cruz in 2012 and subsequently dropping to the flyweight division, Johnson seems to have a speed advantage over all of his opponents and also seems to get better every time he fights. Overall, he is 22-2-1 and 10-1-1 for the UFC, but is undefeated as a flyweight including 6 title defenses on his current 8 fight win streak. He is also still below 30 which tends to be where guys begin to slow down in the UFC's lightest weight classes. John Dodson is the former TUF 14 bantamweight tournament winner, dispatching of current bantamweight champ TJ Dillashaw via TKO in the first round of their fight. He is 30 years old and 17-6 overall. Inside the Octagon he is an impressive 6-1 with his lone loss coming to Johnson in their first fight. It also seems that Dodson is a guy that gets better every time out and he is currently on a 3 fight win streak. In the first encounter between the two, Dodson was able to counter strike effectively for the first couple rounds, landing strikes as Johnson tried to keep up a fast pace. The difference came in the later rounds when Dodson's gas tank began to wear thin. We would also say that we think Johnson has shown more improvement since that first contest. In addition, Dodson has been left active, being kept out of action for some time in 2013/2014 with a knee injury and only fighting 3 times since his first fight against Johnson while Johnson has fought 5 times. Our model favours Johnson and even though he sits at 1.22 (-460), we think there's value in using him as the first parlay leg.
The second leg of our free betting tip parlay will be Paul Felder to defeat Ross Pearson. Pearson is 30 years old and 17-9 (1) overall. He has managed to stay in the UFC for a long time with his first fight being in June, 2009 where he won the TUF 9 finals. He is 9-6 (1) in the Octagon and will be fighting for the second time in just a month and a half after losing a decision to Evan Dunham at UFC Fight Night 72 in July. Paul Felder is 31 years old and 10-1 overall. UFC 191 will mark his fourth Octagon appearance and he has gone 2-1 for the promotion so far, suffering his first defeat to Edson Barboza in a hotly contested fight at UFC on Fox 16 in July. Our model favours Felder to pick up the victory on Saturday night in a fight that will likely mostly be contested on the feet. The short notice factor shouldn't be a factor as both guys have about a month to prepare. We made Felder the second leg of our two team parlay at 1.28 (-360). The net result is a parlay of Demetrious Johnson over John Dodson and Paul Felder over Ross Pearson. We put 3 units on it at 1.56 (-180).
That's it for our UFC 191: Johnson vs Dodson II betting tips. We're not thrilled about this card from a betting perspective, but we could add up to 2 more bets with 1 parlay and 1 underdog bet for our paid followers. Speaking of which, sign up at Cappertek to get our full betting tips for every event! Also be sure to follow us on Twitter and Facebook for all our latest updates!
Bet
Demetrious Johnson over John Dodson and Paul Felder over Ross Pearson. 3 units at 1.56 (-180) at Bookmaker